This New Bike-Wheel Will Convert Any Bike Into An Electric One Within 1 Minute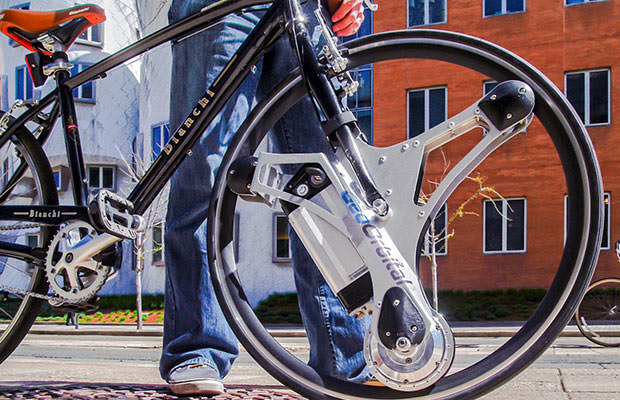 Are you among those who have always been interested in trying out the comfort and the easiness of riding an electric bike, but you are simply too attached to your traditional ride in order to part with it for good?
If your answer is YES – you are definitely in luck, because here we have a perfect solution for you – the amazingly handy GeoOrbital bike wheel.
What Is GeoOrbital?
Essentially, GeoOrbital is a battery-powered bike wheel that is designed to replace a regular wheel on your bicycle, thus turning your favorite ride into an electric bike in mere seconds.
60 of them to be more exact.
According to Inhabitat.com: "This super-handy wheel comes in two sizes which should fit 95 percent of all adult bicycles and allows bikes to travel 20 miles per hour for up to 50 miles."
"The wheel consists of a durable flat-proof tire, an aerospace-grade aluminum motor controller, a brushless DC motor, and a lithium-ion battery. Installing the motorized wheel requires no tools and can be done in less than a minute. Everything needed to power the bike is included in the wheel itself."
See how it works below:
So, basically, all you need is a bike that has a 26, 28, or 29-inch front wheel and rim brakes (which is maybe the only downer here).
What is NOT a downer, though, is the fact that GeoOrbital's battery automatically recharges whenever your bike is moving without using the battery itself, meaning:
when you go downhill,
pedal,
slow to a stop.
Pretty cool.
You get one of these badboys through the official GeoOrbital's site. The wheel will set you back just shy of $800.
Also read: Why You Should Bike To Work Regularly!