The Predator Is Back – 2014 Alfa Romeo 4C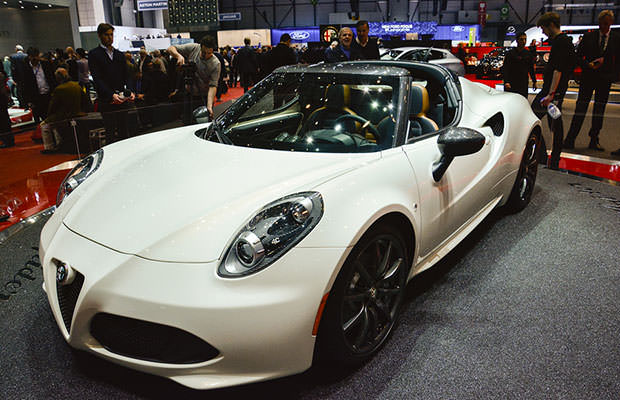 In 2011, Alfa Romeo debuted an all-new sports car that it dubbed the 4C. Upon initial inspection, this beastly compact model looked to be more of a "future styling" concept, which means it will never see production.
However, as time went on, Alfa Romeo decided to make the 4C a reality. Even better, Alfa Romeo plans to release the 4C in the U.S., making it the first U.S.-sold Alfa Romeo since the 2008 8C.
The Possibilities Are Endless
The new Alfa Romeo 4C takes its design inspiration from the 33 Stradale, "a car that combined extreme mechanical and functional requirements with an essential style" — a tradition already started by the 8C and combines a compact size with dynamism and agility.
The 4C will come in six different paint colors, including: Schwarz (Black), Weiss (White), Rosso Alfa (Wine Red), Basam-Grau (Grey), Perlmutt-Weiss (Cream) and Rosso Competizione (Metallic Red). Alfa Romeo paid a special attention to developing the three-layer colors.
Under the hood, Alfa Romeo installed a new turbocharged, 1,742 cc, four-cylinder engine that features direct fuel injection, dual continuous variable-valve timing and a revolutionary scavenging-control system to avoid turbo lag.
Speaking of the turbo, this bad-boy hooks up to a pulse-converter exhaust manifold to help create more flow and further enhance its quick-spooling nature.
Helping prevent turbo charger damage from not allowing the turbo the proper run-off time, the 4C features an electric after-run pump to keep the flow of oil running through the turbo until it is cooled off.
Sniper-Like Precision
All of that tech is sweet, but what really matters is what it produces, and the 4C's little four-banger doesn't disappoint. It pumps out 240 horsepower at 6,000 rpm and 350 Nm (258 pound-feet) of torque between 2,100 and 4,000 rpm, with 80 percent of the torque available from 1,800 rpm.
The engine hooks up to an innovative Alfa TCT twin-dry-clutch, six-speed automatic transmission that ships power to the rear wheels. We wish there was an AWD option available, but the standard Launch Control helps assure precision launches every time.
The new Alfa Romeo 4C made its North American debut at the 2014 New York Auto Show, marking the Italian's company return to North America. The American model retains the same specifications offered in Europe, and just like in there the first 500 units were offered in a special Launch Edition version.
The American-version of the all-new 4C suggests that the model will be 342 lbs heavier than the European version. Also, the model will be priced from $53,900, plus $1,295 for destination when it will go on sale, while the Launch Edition will be priced at $69,695.