New Zealand All Blacks – The Testosterone Army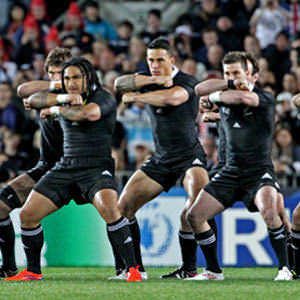 With a winning record against all nations at their disposal, the All Blacks have consistently been the number one side in world rugby and continue to dominate opposition on a yearly basis.
Prior to hosting the 2011 Rugby World Cup the All Blacks did not have a good record at Rugby World Cup tournaments.
They won the William Webb Ellis trophy during the inaugural Rugby World Cup tournament in 1987, before failing to lift the trophy for five consecutive tournaments despite being regarded as the number one team in rugby in the majority of those Rugby World Cups.
In the 2011 Rugby World Cup final however, the All Blacks were able to erase a 24-year hoodoo by edging out France 8-7 at Eden Park, with captain Richie McCaw lifting the trophy in front of an ecstatic home crowd.
Amid the outpouring of collective delight and relief in New Zealand, possibly the calmest person in the whole country was Richie McCaw, the All Blacks captain and flanker extraordinaire.
Interviewed almost as soon as the final whistle had sounded, he commented: "We couldn't have been under more pressure at times, but we stuck to our guns and got there in the end.
I think the key was expecting things to happen. If you hope for the best and don't prepare for it when adversity comes, you're not ready for it." At the 2011 World Cup, the All Blacks were 'ready for it'.
And so the All Blacks were, once again, the champions of the world, 24 years after their last triumph. No one doubted for a moment that they possessed the technical skills and the tactical ability to win the World Cup once more.
Indeed, there are few countries whose national identity is as tied to a single sport as New Zealand's is to rugby.
Pride in the country, its history, and its culture commingle in New Zealanders' rabid support for the All Blacks, who enact a ritual before each match that is the embodiment of this national spirit.
The haka, borrowed from the country's indigenous Maori culture, is a traditional war dance and chant that inspires the All Blacks while issuing a challenge to their opponents to do battle.
The most famous haka is "Ka Mate," and with it, the All Blacks make sure to strike fear into their opponents and send chills down the spines of their fans.