Lexus NX 2014 – Sensantionaly Luxurious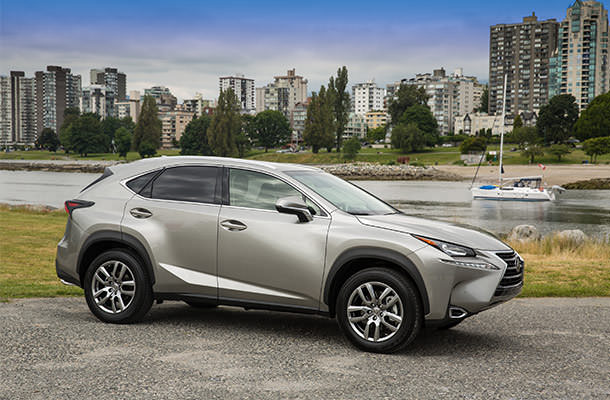 Lexus has turned out one of the most handsome compact premium SUVs out there. In F-Sport trim particularly, with its glinting 'spindle grille', 18-inch alloys and extra intakes, the NX unashamedly grabs your attention.
So does the engine specification, in fact. Being a Lexus, there's the usual hybrid version, but of more note is the NX200t – the 't' stands for turbo, and is Lexus' first attempt at a forced-induction engine.
The petrol-fuelled NX200t is aimed at the Chinese market mainly, but with no diesel option planned and the hybrid drivetrain still disappointing to drive, the 2.0-litre turbo is the NX's headline act.
Allied to a proper six-speed automatic gearbox and front- or all-wheel drive, the drivetrain is remarkably quiet in relaxed driving with very little turbo lag to speak of.
This is the NX200t's comfort zone, however: prod the accelerator pedal past the kickdown button and the transmission tries to find an unnecessarily low gear.
The application of Lexus's eight-speed automatic would certainly make the car feel more flexible, and improve upon the touring range. Claimed economy is a creditable 34mpg, but European-dwelling diesel fans will be far from impressed at that number.
Lexus claims the NX200t develops a healthy 235bhp and 350Nm, achieving 0-62mph in 7.1 seconds and 124mph. However, not only does the car sound strained and less grunty than a VW Group turbo when opened up, but it never really feels the full Golf GTI's worth of poke.
Obviously it'd be ludicrous to expect out-and-out hot hatch performance from a circa-1700kg SUV, but by the same token, anyone stepping out of one of the NX's punchy turbodiesel rivals will be left feeling a little short-changed.
For the class, the NX handles well enough, but quite as well as a BMW X3 or X4. Dial the adaptive driving mode into Sport or Sport Plus and body roll can be all but eradicated in sweeping bends, so long as you're happy to eradicate ride comfort also. The default 'Normal' and 'Eco' modes are much more comfortable, but the NX remains on the firm side.