Ariel Atom – The Racing Space-Frame With Wheels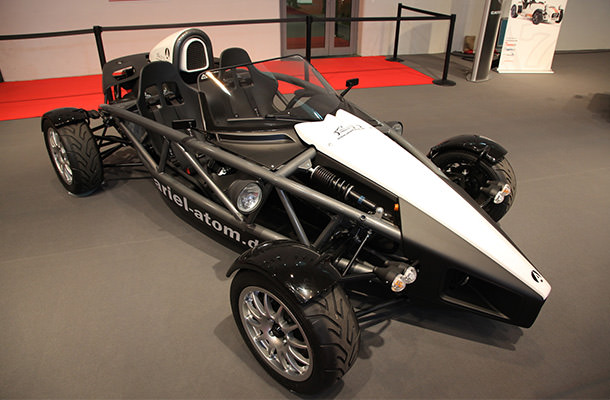 In chemistry, the atom is the most fundamental building block of matter. Now the automotive world has its atom — a car so pure and simple that some people are calling it minimalist art.
But the Atom, designed by Ariel Motor Company of Great Britain, is not something you enjoy from a distance. To truly experience it, you must climb into the two-seat cockpit, start the engine and punch the accelerator.
Two seats sit within the Atom's intricate steel latticework, and in this case the looks don't deceive: there are no creature comforts to speak of, but performance is stunning and the handling sharp, whichever model you choose.
While an optional windscreen makes it possible to drive without a helmet, that's all the protection you'll get from the outside world – and in the right conditions it's better for it.
The Atom really is like nothing else. You peer out over the nosecone and watch the front suspension move up and down, and the inboard shocks pump in and out in time with the feedback from the wheel.
The range starts with a 180bhp 2.0-litre four-cylinder and moves through 245bhp VTEC or supercharged 300bhp 2.0-litre fours, finishing with a mental 500bhp V8 – though the latter is a specialist car with a sequential gearbox and enough power to scare yourself witless.
There's joy to be had from admiring what isn't there, too. The Atom is a minimalist's dream. Doors? Just finely welded chassis stays. Weather gear? Just the small holes drilled into the seat and floor. Fancy gearlever? Not a bit of it – just a plain, stubby gearstick or wheel-mounted shift paddles that, despite being carbonfibre, are still drilled for lightness.
To be street-legal, an Atom must be built as a kit car. That means everything, including the engine, is shipped to the owner in pieces. An optional road pack, which includes turn signals, a horn, rear tail lights and headlamps, is also available.