2016 Alfa Romeo 4C Spider – When Italian Goes Convertible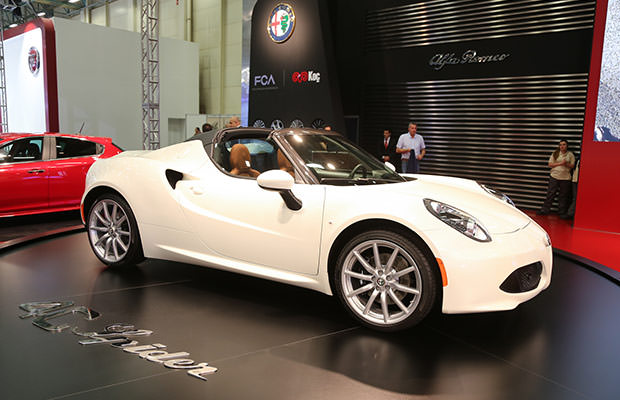 When the 2016 Alfa Romeo 4C Spider was shown to the world during the 2014 Geneva Motor Show, we immediately fell in love with it. But as its 2016 North American release closes in, this car just received a whole bunch of upgrades.
Two Years Of Progress
As you probably know, the 4C Spider was based on Alfa's successful 2014 4C. But even though the new car has a pretty strong example, it's basically going to be a whole new model.
The new 2016 model has some pretty obvious differences right off the bat.
For starters, there's the removable top and a new rear decklid. This means the 4C Spider is now a convertible rather than a coupe.
Furthermore, Alfa Romeo also equipped their updated model with a titanium exhaust system, conventional headlights, and a couple of wheel options. The cockpit, on the other hand, is still the carbon fiber-clad interior we saw at the Geneva Motor Show.
Better, Faster, Stronger
As for the drivetrain of the 2016 Spider, most of the components have been left pretty much unchanged. The new model features the 1.75-liter turbocharged engine borrowed from the 4C Coupe, and it features a system that eliminates turbo lag and helps produce 240 bhp at 6,000 rpm.
The new Spider's transmission was also transferred from the 2014 model. However, the exhaust system has been upgraded, as the new model is now equipped with a dual-exhaust system built by Akrapovic.
All-in-all, the 2016 Alfa Romeo 4C Spider might look similar to its previous version, but the changes in this car's details are more than enough to beat its predecessor in terms of both style and performance.