2015 Mercedes S550 – Sensing Danger Before You Do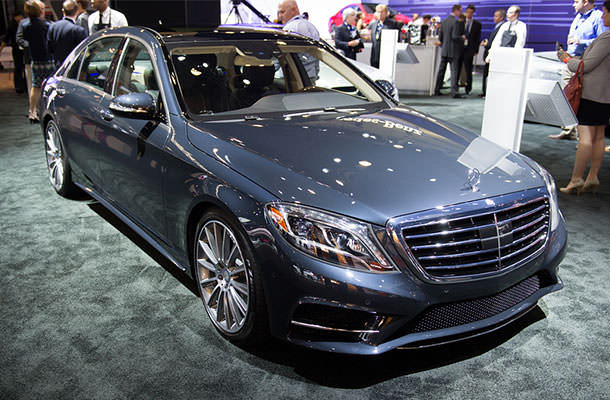 Driving the latest Mercedes S550—the company's premium flagship sedan and pretty much the entire industry's standard-bearer of advanced technology—can be a spooky experience. As you drive around, you start tallying all the barely perceptible interventions that the car generates to keep you alive, and quickly realize the car is probably paying more attention to what you're doing than you are.
The Mercedes-Benz S-Class has long laid claim to the top of the luxury-sedan ladder. Especially if you value technology, engineering, and some of the most advanced active safety and occupant protection in the world.
If this is the future, it begins with a nudge—a slight vibration when you drift out of your lane without using the turn signal. Then, when cruise control is activated, imperceptible adjustments to your speed to keep you in harmony with traffic.
See that speed bump ahead? The car's Magic Body Control system will automatically soften the suspension so you float over it without spilling your coffee.
Cameras and radar in the front of the car scan for pedestrians and vehicles—even cross-traffic you may not notice.
This past model year marked the introduction of a completely new, sixth-generation S-Class, and in keeping with tradition, the S-Class was first launched in just one guise: the S550, with a twin-turbo V-8.
Since then, a high-performance S63 AMG 4Matic model; and now for 2015, the lineup gets wider yet with the introduction of flagship S600 and S65 AMG models.
And now it's not just a sedan. With the retirement of the CL-Series, a new 2015 Mercedes-Benz S-Class Coupe breaks onto the market, flaunting a striking profile and a unique roofline compared to the sedan. Details are familiar but bolder, with arching character lines that look crisper, and a tauter, more horizontal look to the rear styling.
In front, the S-Class Coupe gets details that are much like those of the Sedans, with a more upright, broad-set grille, angular full-LED headlamps, and large air intakes.
For now, the 2015 Mercedes-Benz S-Class includes two versions. The base S550 has a twin-turbocharged 4.6-liter V-8 engine, teamed to a seven-speed automatic with paddle shift controls and a choice of rear- or all-wheel drive.
Those with a penchant for speed as well as supreme luxury will appreciate that the S63 AMG is now joining the lineup. It gets most of the S-Class's standard bag of tricks, plus a few of its own, including a force-of-nature 577-horsepower, 664-pound-foot twin-turbo 5.5-liter V-8 engine and rear-biased 4MATIC all-wheel drive.
It's the epitome of a luxury-flagship powertrain, an effortless performer, in tandem with the standard air suspension. The whole Mercedes lineup has become less and less clinical, ever since its failed marriage to Chrysler; the new S-Class' pillowed, scented, remote-controlled, app-enabled, silver-graced cabin is its most sensually appealing ever.