12 Sports Films You Must See Before You Die
1 – Remember the Titans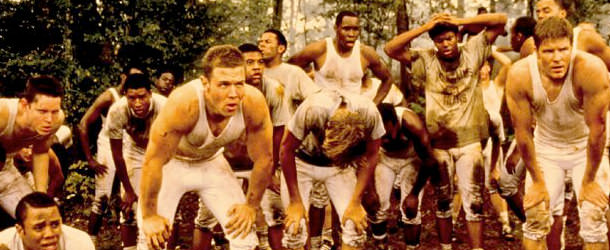 Photo credit: Bruckheimer Films
Based on actual events, this film is about a high school football coach who finds himself fighting for stakes much higher than the state championship.
Driving the action is a 1971 court order that forced three Alexandria, Virginia, high schools – two all-white, one all-black – to integrate their student bodies and faculties for the first time.
Will Patton and Denzel Washington turn in great performances as the football coaches who inspire their reluctant students to face the facts about integration.
2 – Chariots of Fire
Photo credit: Allied Stars Ltd.
Winner of the 1981 Academy Award for best picture, this British historical drama is based on the true story of two very different men who competed as runners in the 1924 Paris Olympics.
The film follows each man as he trains for the competition. It forcefully drives home the idea that victory attained through devotion, commitment, integrity, and sacrifice is the most admirable feat that one can achieve.
Even if you haven't seen the film, you're probably familiar with its Oscar-winning score. The Chariots of Fire theme is a staple at corporate retreats and high school graduations.
3 – The Natural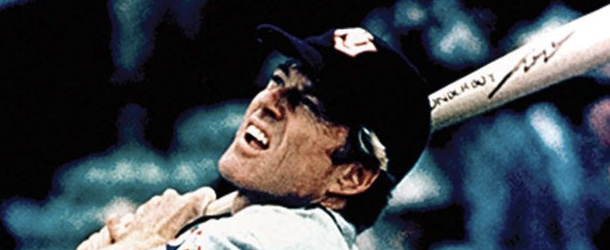 Photo credit: Tri Star Pictures
This unforgettable film is loosely based on the Bernard Malamud novel about Roy Hobbs, a farm boy and mythical baseball prospect. Early in his career, Hobbs was shot by an enigmatic woman. He returned 16 years later to partly fulfill his mythical promise.
Hobbs is played wonderfully by Robert Redford, who works with a strong supporting cast, including Glenn Close, Wilford Brimley, and Kim Basinger. Randy Newman's dramatic score adds a bit of grit to this corny but captivating timepiece.
4 – Hoop Dreams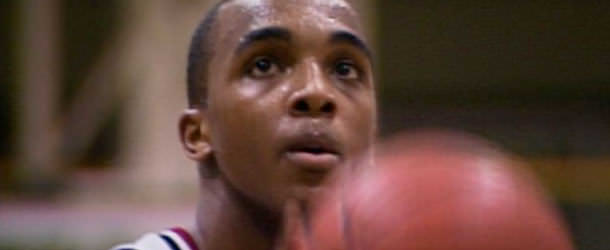 Photo credit: KTCA Mineapolis
The best documentary ever filmed about sports in America, Hoop Dreams follows the aspirations of two high-school basketball players from inner-city Chicago.
The movie traces the lives of the two young men during their entire high-school careers, beginning with their participation in playground games as young teen-agers and ending with their being recruited by colleges.
5 – Field of Dreams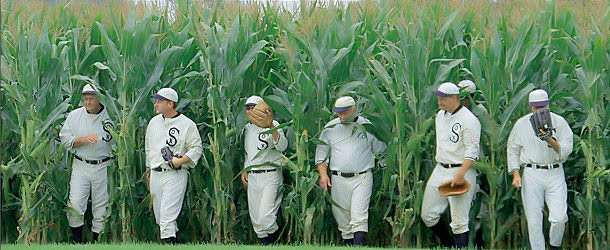 Photo credit: Gordon Company
A line from the film – "If you build it, they will come" – has become part of the American lexicon.
The story involves an Iowa farmer (played by Kevin Costner) who constructs a baseball diamond in the middle of his cornfield.
The farmer seems to be the ghost of disgraced ballplayer Shoeless Joe Jackson (Ray Liotta), who materializes on the ball field and plays a few games with the awestruck farmer.
This captivating film is undeniably entertaining, but you must be an imaginative baseball fan with an open mind regarding the supernatural to get the most out of this movie.
6 – Seabiscuit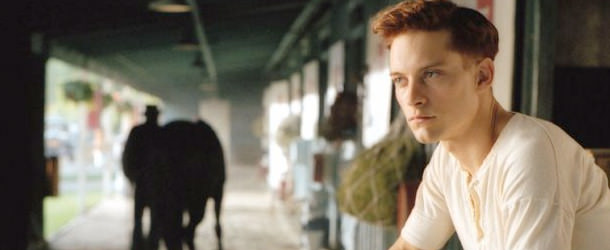 Photo credit: Spyglass Entertainment
Director Gary Ross does a wonderful job translating a masterful novel by Laura Hillenbrand into a film, which is a re-make of the 1949 version starring Shirley Temple.
Seabiscuit tells the story of a smallish thoroughbred who reaches unexpected heights and helps inspire Americans in the Depression era of the 1930s.
Excellent performances by Tobey Maguire, William H. Macy, Chris Cooper, Jeff Bridges, and Elizabeth Banks make this movie a must-see.
7 – Raging Bull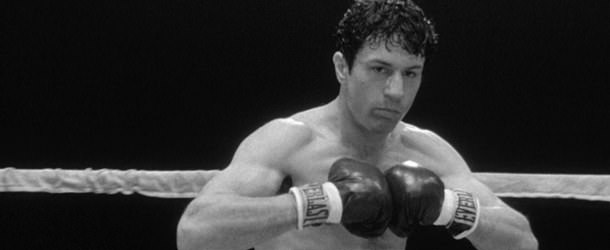 Photo credit: United Artists
Director Martin Scorsese chose to use black-and-white film to create a brutally frightening and realistic atmosphere in this true story of middleweight boxer Jake La Motta, a violent man in and out of the ring who thrives on his willingness to take a beating.
Robert De Niro gives an unforgettable performance as La Motta. The film is based on La Motta's memoirs.It is an uncompromising portrait of an unlikable man and his ruthless profession.
8 – Rocky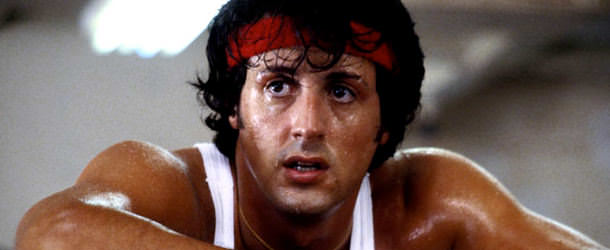 Photo credit: United Artists
This low-budget 1976 film launched the career of Sylvester Stallone and won the Oscar for Best Picture, inspiring five mostly forgettable sequels in the process.
Stallone plays a slightly dimwitted amateur boxer from the tough streets of Philadelphia. The action starts when he gets a surprise shot at fighting for the heavyweight championship.
At the same time, he finds love in the arms of a shy, reclusive girl who works in the local pet store.
Helping enormously is Burgess Meredith, who is cast perfectly as a crusty old trainer who advises Rocky. The theme song is still used today as an anthem for underdogs.
9 – Hoosiers
Photo credit: Hemdale Pictures
Hoosiers is the inspiring true story of a group of 1950s-era high-school basketball underdogs who become champions in Indiana, where hoops is a religion.
Gene Hackman is perfectly as a hard-luck, unemployed college basketball coach who gets a chance to coach a small-town high-school team.
Facing resentment from the community and the team itself, Hackman manages to inspire his young athletes, leading them to the state championship.
 10 – Bull Durham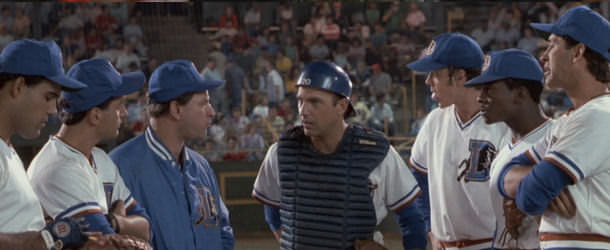 Photo credit: Mount Company
This immensely entertaining film is not, admittedly, for those who take their sports too seriously. The movie treats the sport of baseball with casual reverence, highlighting both the drama and the humor inherent in the game.
The plot concerns a Minor League team called the Durham Bulls. It details the intertwined lives of veteran pitcher Crash Davis (Kevin Costner), young hotshot Nuke LaLoosh (Tim Robbins), and love interest Annie (Susan Sarandon).
Watch this one with your girlfriend. Seriously. The interplay between Costner and Sarandon will get her motor running, guaranteed.
11 – Moneyball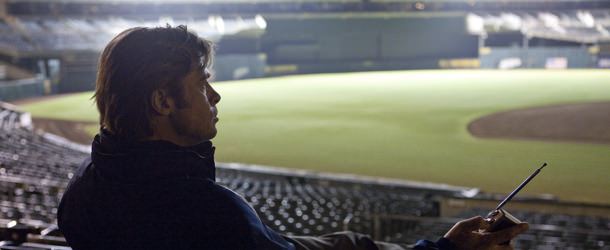 Photo credit: W.W. Norton & Company Inc.
This intriguing film is based on a book by Michael Lewis that revolutionized the game of baseball.
The movie stars Brad Pitt as Billy Beane, the general manager of the Oakland A's and the guy who recruits new players.
Forced to reinvent his team on a tight budget, Beane hires Ivy League grad Peter Brand (Jonah Hill) in an unlikely partnership, recruiting players other scouts have written off.
When the new players prove they can get on base, score runs, and win games, Beane and Brand are vindicated.
12 – Million Dollar Baby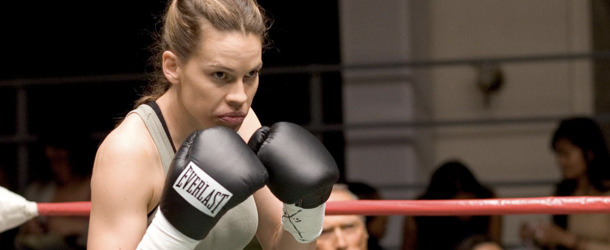 Photo credit: Warner Bros
Hilary Swank plays Maggie Fitzgerald, a 31-year-old woman who decides that boxing is her ticket out of a meaningless life.
Fitzgerald manages to convince Frankie Dunn (Clint Eastwood), a down-on-his-luck veteran boxing trainer, to take her on despite his misgivings. The chemistry between the two actors gives the film a special quality, and the emotional bond between the characters is inspiring.
Adapted from a short story by F.X. Toole, a former corner man with years of experience in the fight game, the movie is a directing triumph for Eastwood.