What A Woman Wants: The Marriage Proposal She Can't Say No To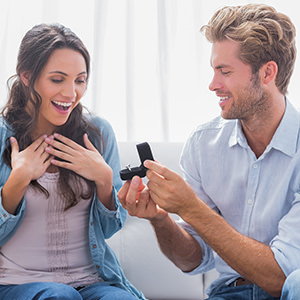 The real ticket to getting the big "Yes!" from your woman really boils down to one thing – knowing her.
From her innermost secret wishes and desires, you must know her.
Knowing her will let you know everything that she needs and wants from your proposal to give the nod.
She might be speechless at first, but your job is to create that fairy tale romance story that will be shared for generations.
You gotta be all in
That half witted proposal doesn't get you far, regardless of the size of the rock. She can tell the difference between a half assed proposal effort and a full blown, well thought out one. This is where that taking time to know her (thank you, Otis Redding) comes into play.
Honestly, your sincerity is what matters most, and if she's not into big scenes, then having your proposal put up on the big board at the football game might not be the right direction. However, if she's a face painting supporter of the team, go for the goal!
What a girl wants
What a girl wants and what a girl needs are often two very different things, and as her future life partner, you should know the difference. Even if you can't bust out a huge rock and make a big deal of everything, that doesn't mean that you can't rock at popping the big question.
Trust me, she'll remember this moment and retell this story far more than the frantic wedding day tales.
On bended knee or not to be
Values and tradition tells us guys that getting down on one knee is some sort of mandatory practice. However, those of us living in the real world understand that such occurrences will likely be the last time we assume the begging position in our relationship unless it's for after hours fun.
If your woman wants to see you on your knees, by all means, assume the position!
Make it ALL about her
Your proposal to the woman you know and love should reflect that knowledge. Does she love the outdoors, poems, books, music, certain flowers, colors, etc? Take all that to the bank and shell out a bit of that love by making her favorite everything a part of the proposal.
These things might actually be better than a fancy ring to her, but hey, it's your woman, so know her and incorporate a bit of all you know into your plea so she can't say no!
The good, bad, and the ugly
Yes, we've all heard horror stories about popping the question, we've seen the videos of Joe Smith getting rejected, and these are certainly not ideal. Take note of where it all went wrong.
If your lady isn't the best with humor, don't ask her to "bury you" as you show her the newly purchased plots at the cemetery. Don't fake your death and pop out of the coffin at your funeral. Just keep it real, and if she's really down with you, it's all magic from there!