Tracy Morgan Makes A Surprise Appearance Suring The Emmys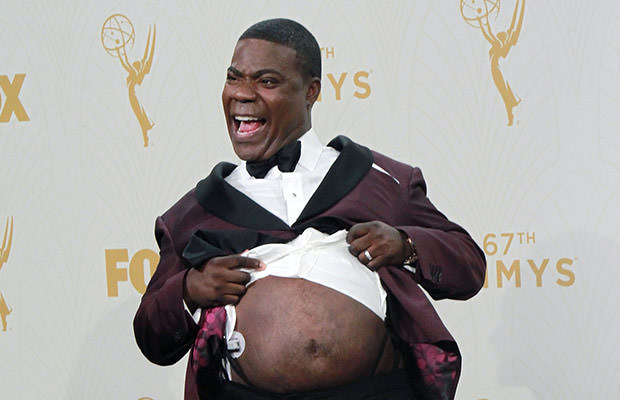 Just one year after surviving a terrible car crash and going through physical rehabilitation, famed actor and comedian
Tracy Morgan
made a surprise appearance at this year's
Emmy Awards
on September 20th.
The talented man who couldn't stand on his own just a couple of months ago walked onto the huge ceremonial stage without the use of a cane, and received a standing ovation.
The 46-year-old hugely talented man was supposed to announce the Best Drama category, but he didn't think that he would receive more applause than the winner of the award.
Before he announced the winner, Morgan shared a special emotional moment with the audience and thanked the masses. "I miss you guys so much," he said, "Last year Jimmy Kimmel said on this stage, 'We'll see you back on this stage next year, Tracy Morgan.' Well, Jimmy, thanks to my amazing doctors, and the support of my family and beautiful wife, I'm here. Standing on my own two feet."
As his very close A-list friends, in the likes of Amy Poehler, Jane Krakowski, and Tina Fey, got more and more emotional in their seats, Morgan continued with words of love, prayers, and blessings: "I suffered a traumatic brain injury that put me in a coma for eight days and I finally regained conscious. I was ecstatic to learn that I wasn't the one that messed up! Only recently I've felt like myself again, which means a whole lot of women are gonna get pregnant at the after-party!"
Since the horrible accident, which took the life of his close friend who drove the vehicle they were in, Morgan had another shot at happiness. He married his fiancé, Megan Wollover, in August.