Let Your Wallet Do The Talking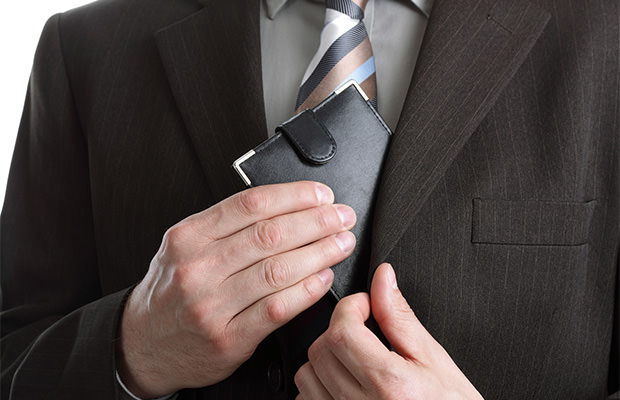 Every man has one, every man needs one. Some would perhaps even go as far as arguing that the wallet is the most essential item that a man owns, and yet so many of us seem to get this important piece wrong.
Time after time you will see a man exploding the style from every pore, only for him to be left standing like a well without water when he pulls out his billfold. A crusty-looking, warped and torn wallet stained with sweat and emblazoned with a 'funky' pattern or some outdated logo.
Suddenly the bar clears and the model you were chatting with throws herself in front of a passing car. Game over. Your wallet has let you down again. Here is a rundown of the main culprits.
The More, The Merrier? Not Quite
Experts tell us that a man's wallet should achieve functionality.
A real man shouldn't carry a designer wallet, one filled to the brim, waiting to explode and blow all of its important contents to the wind. Consider going through your wallet and getting rid of anything non-essential.
However, it's not all about function. The appearance of your wallet is equally crucial.
Your slim day-to-day billfold isn't meant to hold large papers and tickets when your travel. A polyester wallet with your football team's insignia is fine for Saturday shopping, but it won't do make the best impression at a business lunch.
Freshen Your Style Up
If you don't have a serious wallet, buy a new one. You don't have to spend a lot, but the more you do spend, the more elegant the presentation and longer the wallet should last. The tri-fold vs. bi fold is a personal preference issue, but you should gravitate to the slimmest lines possible.
From fancy name designers to exotic reptiles, wallets can be as much as $500. For most of us this price point is excessive. Spending $50 is fine, so where ever you shop, look for top or full grain leathers, and examine the stitching.