Gadget Freak: The Story Of The Incredibly Practical Swiss Army Knife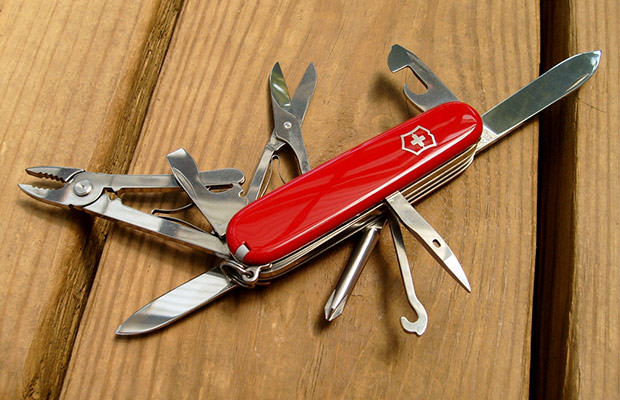 Who would have thought that someone's stubborn nationalism would bring an amazing invention? But those things do occur once in a while, and a perfect example of that scenario is the legendary Swiss Army Knife.
This utility icon, recognizable all over the globe and used by millions of people, started its story a pretty long time ago it seems that the craze for the gadget won't stop anytime soon. The incredibly practical gadget has numerous functioning tools, all folded into one small red metal thingy. And it all started in the 1880's.
The Birth Of The Swiss Knife
Back in 1880,
Karl Elsener
and his mother
Victoria
opened a small business in Ibach that made and sold cutlery and surgical equipment.
Around the same time, the Swiss Army decided to purchase a new folding pocket knife for their soldiers, which would be suitable for opening food and disassembling the Schmidt-Rubin rifle (which requires a screwdriver for assembly).
The Army then placed the order with Wester & Co., a German knife manufacturer, because no Swiss company at the time had the necessary production capacity.
Karl, the young Swiss entrepreneur as he was, though that it was a huge disgrace for the whole nation that the Swiss army was provided with German equipment, and just a year later, the Swiss entrepreneur won the contract to produce a Modell 1890 knife from the previous German manufacturer.
Friends And Foes
In 1897, Karl took out a patent for his Officer's and Sport's Knife, a gadget that had a recognizable design which hasn't changed to this day. He named the company Victorinox – a conflation of Victoria and "inox", an abbreviation of "acier inoxydable" (which is French for stainless steel). However, Karl's innovation didn't stay too long by his side, due to the fact that a rival company (owned by Theodore Wenger) began making a very similar design.
However, the Swiss Army decided to be traditionally neutral, so they bough both the "Original Swiss Army Knife" from Victorinox and the "Genuine Swiss Army Knife" from Wenger. The Army split its orders equally between the two companies, which merged in 2005 when Victorinox bought Wenger, but in 2013 Wenger and Victorinox announced that the separate knife brands will merge into one, going by the brand name of the later. Wenger's watch and licensing business continues on as a separate brand.