Bursting The Bubble: Seattle Gum Wall Gets Cleaned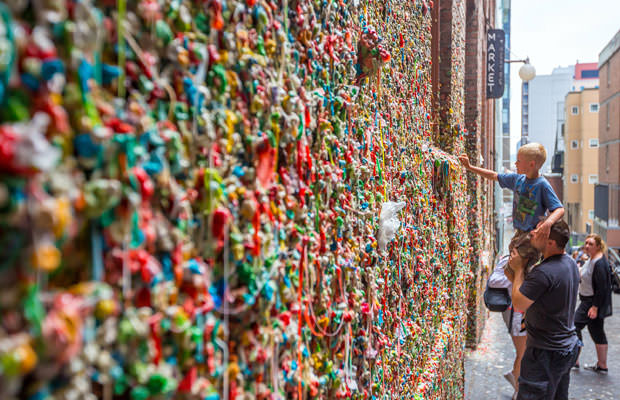 Seattle is losing a small landmark of some sorts, and you could even say that a million small pieces of history are coming down. If you've heard of the famed Gum Wall near Pike Place Market, you understand the magnitude of this clean-up project.
Crews are cleaning up Seattle's famous
Gum Wall
, where both tourists and locals alike have been sticking their used chewing gum over the course of 20 years.
The whole wall is completely plastered with gum pieces, which formed a whole art piece due to the colors and shapes (some gums are stretched and pinched into designs and messages).
A whole array of other objects found their way on the wall, including many business cards, pictures, notes, and other mementos. The mentioned crews turned on their powerful steam cleaners on Tuesday.
A spokeswoman for the Pike Place Market said that market leaders decided that this was the a good time to clean the wall, but that they also expect people to start leaving gum on the wall again pretty soon. "It's an icon. It's history," a market worker revealed, "The market is famous for the gum wall. But it also draws rats."
The contractor's general manager revealed that she hopes that "the citizens of Seattle don't hate her for removing the gum wall."