25 Awesome High-Tech Gadgets You'll Probably Never Be Able to Afford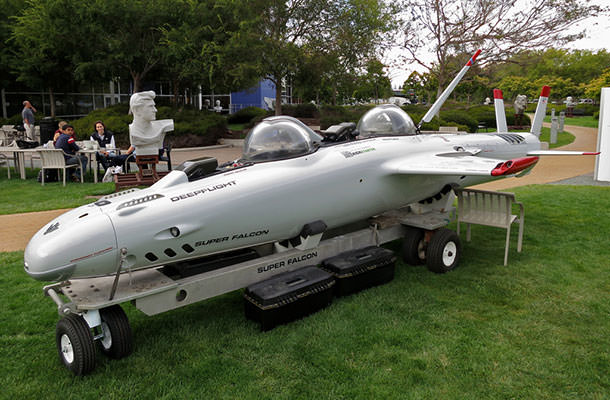 It's an unfortunate fact that some of the most amazing gadgets ever invented are also the most expensive. If you are already insanely rich or expect to win the lottery any minute now, you should definitely take a look at the world's coolest (and priciest) gadgets. Here are 25 of the very best:
1. Super Falcon personal submarine ($1,700,000)
If your Christmas wish list includes a 6.4-metre submarine that can carry three passengers and dive down to 120 metres, look no further. The DeepFlight Super Falcon (made by Hawkes Technologies in California) will fit the bill splendidly. With a wingspan of over 2.5 metres, it looks more like an underwater jet than a sub.
It's best not to open the windows for a bit of fresh air; use the inbuilt air conditioning system instead. The price tag includes training and an on-site pilot, of course.
2. Hasselblad H4D-200MS digital camera ($45,000)
The Hasselblad name has always been synonymous with quality photographic equipment, and the H4D-200MS is the cream of the crop in digital cameras. It boasts the most advanced auto-focus in the world, 50-megapixel resolution, a 3-inch LCD and 16-bit colour definition. This superbly crafted camera is for serious (and seriously well off) photographers only.
3. Stratasys uPrint SE 3D printer ($15,900)
The word 'incredible' just doesn't seem to adequately describe modern 3D printers. They can be used to make jewellery, tools, prosthetics, sculptures and a whole range of other nifty objects. If you're going to buy one, you may as well get the coolest desktop 3D printer on the market – the Stratasys uPrint SE.
This unit is compact enough for office use, and it can deposit layers of material as thin as 0.254 mm thick. Its spools are large enough to hold 42 cubic inches of material, which means fewer spool changes and longer print runs.
4. Megatrend MKIII speakers ($80,000)
Can't quite hear the music at your place? Perhaps it's time to invest in a more advanced set of speakers. Once you've installed these seven feet tall, three feet wide wall speakers in your living room, your neighbours will be insanely jealous. If they're not, there's a good chance they'll be on the phone to the police about the deafening racket coming from your house.
5. VibroGym Diamond exercise machine ($69,190)
The VibroGym Diamond uses vibration to stimulate your body's muscles; it consists of a platform that you stand on, and a steering-wheel-shaped grip that you hang on to with your hands. Aside from its fitness benefits, it's also features 65,000 Crystallized Swarovski Elements imbedded in the metallic vibration plate.
Think of it as combination of ostentatious jewellery and functional home gym equipment. You can always get the maid to wipe the sweat off for you, and summon the butler to bring you a cool drink while you energetically jiggle in place.
6. The Kohler Numi Toilet System ($6,400)
Even the fabulously wealthy must do their personal business somewhere. This space-age human waste receptacle features touch screen controls, a heated seat and a smart bidet to facilitate cleaning. A vent circulates warm air underneath you for extra comfort.
If watching the automatic lid open and close isn't enough entertainment for you, there is also an inbuilt music system. It's extremely important to create the right mood in these situations, after all.
7. Venturi Fetish two-seater electric sports car ($660,000)
If you're a millionaire who still thinks gas prices are ridiculously high, here's your answer – the ultimate electric car. The Venturi Fetish can reach 160mph with its 250hp engine, and its Lithium Ion Polymer batteries provide an 80% recharge in less than 3 hours. It accelerates from 0 to 60 in a mere 4 seconds.
This isn't a vehicle you're likely to find at your local used car lot, however: the Fetish isn't mass produced. If you order one, expect a two year wait for delivery. At a price in excess of half a million dollars, you'd like to hope it also includes 'that new car smell'.
8. 18-carat gold Blackberry Torch ($31,000)
Don't buy this particular Blackberry if you're the sort of person who loses things. This version, made by Amosu Couture, features a decadent amount of 18-carat yellow gold.
You can choose between a crocodile or python case. Do you really need a Blackberry Torch that costs more than some cars? Of course you don't – that's the whole point. It's a must-flaunt item, not a must-have item.
9. Louis Moinet Magistralis watch ($860,000)
Have you always dreamed of owning a watch containing a tiny, 2000-year-old piece of meteorite from the moon? You probably haven't, but here's one anyway.
The 18-carat gold Magistralis features a perpetual calendar and a complex movement that beats at nearly 20,000 vibrations per hour. The case alone is made up of 90 separate pieces. Aside from its many extra features, it also does a great job of telling you what time it is.
10. Pal-V One flying car ($296,000)
The Dutch-built Pal-V One isn't so much a flying car as a three-wheeled motorcycle that turns into a gyrocopter.
This 'helicycle' contains a 27-gallon gas tank that will take you 750 miles on the road, or 220 miles up in the sky.
You'll need a driving license and a Sports Pilot Certificate to operate one.
On the road, it goes from 0 to 60 in under 8 seconds, and can reach speeds of up to 112mph. It's perfectly legal to drive (and fly), and only takes ten minutes to switch between driving and flying modes.
It weighs about 1500 pounds, and needs a 540-foot runway for take-off.
11. ATN PS15 night vision goggles ($6400)
Night vision goggles aren't something the average person needs to use terribly often (unless they're a part-time serial killer), but these image-enhancing nocturnal goggles are a fun toy to play with; they could certainly come in handy on Neighbourhood Watch patrols.
The ATN PS15 is one of the highest quality models available to civilians, and boasts a built-in infrared system that lets you read a map in complete darkness. It's so awesome that it's not even allowed to be exported out of the US.
12. Bang and Olufsen BeoVision 4 plasma television ($85,000)
If you're the sort of person who absolutely must watch their Breaking Bad reruns on a massive, wall-mounted, 85-inch 3D plasma TV, you probably have way too much money on your hands.
A protective screen lowers into place automatically when you've finished watching the madcap shenanigans of Walter White. For the asking price, you'd expect them to throw in a free remote, too; a year's supply of popcorn wouldn't go astray, either.
13. Hammacher Schlemmer Professional Microbrewery ($45,000)
Not content to take your chances with the beer at your local watering hole? Then brew a delicious stout or lager yourself, with this attractive home brewing machine. It's quite similar to a commercial microbrewery machine, but scaled down to a more manageable size for home use.
Simply enter your favourite beer recipe into the integrated touch screen computer and it will start the brewing process immediately. You can adjust brewing temperatures and times as needed. If you're particularly thirsty, have no fear: this gleaming unit comes with a roomy 15-gallon storage tank.
14. Stock car racing simulator ($60,000)
Are you too sensible (or too terrified) to risk your life participating in a real stock car race? Then try this simulator, which pitches, rolls and leans into turns just like a real car and has genuine gear shifters to match. Realistic audio is provided via a surround sound system, and you can choose from 21 legendary stock car courses, stunningly portrayed on the high resolution, 22-inch LCD screen.
It looks, feels and sounds just like being in a real car race, but without the acrid smoke burning your nostrils. This is another extremely cool product from the Hammacher Schlemmer retail catalogue.
15. MWE Emperor 200 PC workstation ($45,000)
This computer workstation looks like it just came off the Starship Enterprise, but you don't need to be a pointy-eared Vulcan to operate it. Each MWE Emperor 200 is custom made to your personal specifications, and takes 6 months to be crafted.
It features an electrically operated leather seat, touch screen control system, advanced air filtration and various lighting options. The three monitors lift up and out of the way when not in use.
16. Ecosse Titanium Series FE Ti XX motorcycle ($300,000)
Do you desperately want to own the world's most expensive motorcycle? Is your life incomplete without oodles of pure torque, stylish carbon fibre wheels and a high-end chassis constructed of high grade titanium? If so, raid your piggy bank and rush off to buy the award-winning Ecosse Titanium Series FE Ti XX.
Even if you don't really care about the exposed carbon belt drive, the ceramic finish or the hydraulic clutch, you'll still love cranking up the powerful 225hp engine and getting out on the open road – with the wind in your hair and a great big hole in your bank balance.
17. Lionel model train set ($12,000)
The Lionel Train Company has produced the ultimate Christmas gift for children whose parents have money to spare: this complete train diorama includes a Lionel New York Flyer locomotive and 36 feet of 0-gauge track.
On its journey, the toy train (which includes a caboose and three passenger cars) travels through a pine forest, past several 1950s-style buildings and through a tunnel that's cut through a 22-inch-high mountain. The train track features a 90 degree crossover, two crossings (one with bells and flashing lights) and 5 remote track switches. You must supply your own toot-tooting noises.
18. Victorinox 1TB Swiss Army Knife ($3,000)
If you're ever hopelessly lost in the Bolivian jungle, you can use the scissors in this all-purpose folding knife to cut bandages for your snake-bitten leg. Then you can use the largest blade to kill the snake itself and cut it into bite-sized pieces for roasting.
Then you can use the screwdriver to repair your camera, while trimming your out-of-control toenails with the handy file. Once you've done all that, just pop out the 1-Terabyte USB storage stick that's hidden in the knife and plug it into your laptop, which is connected to the outside world via the satellite phone you conveniently remembered to bring along.
Then you can send some really cool selfies to the folks back home.
19. Abyss AB-1266 headphones ($5,495)
In the quest to build the finest-sounding headphones on earth, Abyss has hit the nail on the head with the AB-1266. These headphones are composed mainly of metal and weigh nearly a pound and a half, but the even distribution of weight and soft, lambskin ear pads make them very comfortable, without that cranium-clamping effect you tend to get with cheaper headphones.
The planar magnetic drivers used in these headphones were developed over a five year period by the headphone's inventor, Joe Stubinski. The sound clarity is astounding, and has been likened to 'being in the same room as the band'. The Abyss AB-1266 comes with a real leather carrying case, an attractive table stand and a storage box made of beautifully finished wood.
20. Yoyotech Aurum 24K personal gaming computer ($13,000)
Looking for a PC that lets you play high-resolution 3D video games on 4K resolution monitors? Then check out the Aurum 24K – the Rolls Royce of gaming computers. It's not just blindingly fast and ridiculously powerful; added to its six-core CPU is Intel's Hyper-Threading Feature, which effectively doubles the core count to 12.
Throw in a Core i7-4960X Extreme Edition processor running at a frequency of 4.6Ghz, two Titan graphics cards and a 2TB hard disk, and you've got everything a serious gamer could ever want in a PC. The unit is water-cooled rather than air-cooled, so there's no need for all those rotating fans that make normal PCs so noisy.
The whole unit is incredibly quiet, and the main cables are hidden in the console to maintain a neat, streamlined look.
21. CAMI Terra Wind amphibious recreational vehicle ($850,000 – $1,500,000)
If you believe the main problem with lavishly appointed, high-end motor coaches is the fact that you can't also use them as a boat, then here's some great news. The Terra Wind (made by Cool Amphibious Manufacturers International in South Carolina) is a luxury Class A motor home with a 330hp Caterpillar diesel engine and an Allison 3000 MH 6-speed transmission.
Should you inadvertently drive it into a lake, there's nothing to worry about: you just switch from road transmission to boat transmission, grab your fishing rods and motor out to the middle of the lake (at a maximum speed of 7 knots). Price will vary depending on the custom features you want installed.
22. Clerc Hydroscaph Steel GMT Exploration Machine diver's watch ($8,000)
Diving 1,000 metres below the ocean's surface is fraught with danger: there's all that water pressure, all those big sharks and all that incessant ear-clearing. But the worst thing is not knowing what time it is. This isn't a problem if you're wearing the Hydroscaph Steel GMT diver's watch.
It features a beautifully designed octagonal case, an auto helium escapement valve and a self-winding C606 movement. If you want the most sophisticated diving watch ever made, grab one of these (and a pair of flippers).
23. Diamond computer mouse ($25,700)
If your current computer mouse is looking a bit tired and worn, here's the perfect chance to replace it. The Pat Says Now company has created a 3-button optical mouse out of 18-carat white gold (with 13% palladium).
On top of the mouse are 59 diamonds, which can be custom positioned to spell out your name. The USB-sensor resolution is 300 dots per inch, but you're not likely to care about such pesky details if you're buying a diamond-studded computer mouse, are you?
24. Hammacher Schlemmer skier-controlled tow boat ($17,000)
Can't find a partner to go water skiing with you? It doesn't matter if you own this unmanned, skier-controlled boat.
It's almost 8 feet long and features a 3-cylinder, 70hp engine that gets you moving at speeds of up to 40mph. Everything is controlled by the 6-button control panel built into the tow rope handle. The jet-propelled engine makes it safer than a propeller-powered craft, and if you fall off your skis, the boat engine shuts down automatically.
25. Jura-Capresso coffee maker ($3,000)
When you're rich, it can be hard to get up in the morning. Sometimes, having all that money to count can make you lethargic. But with the Jura-Capresso coffee maker, you'll be bouncing out of bed just to play with all the cool coffee-making features: the 'Thermablock System', the 'Claris Filter Burr Grinder Release Tool' and two separate 'Frothing Systems'.
You'll love the stylish cowhide leather and the elegant knobs encrusted with genuine Swarovski crystal. Once you've made a perfect but rather expensive cup of coffee, you can get on with the arduous task of counting your money again.