2015 Buick Avenir – The Real Future Car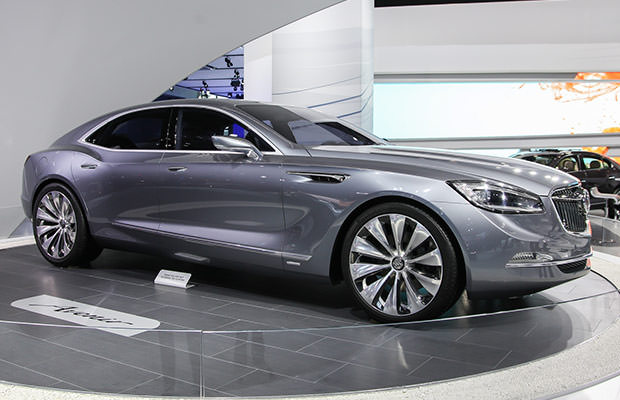 While carmakers like Rolls Royce, Cadillac, and Bentley always had a clear stance in terms of style in luxury, Buick seems to be the milder version of the abovementioned brands. This brand never reached the extreme end of style and has avoided having superior power, the kind Wraith possesses.
But with their 2015 concept model Avenir, Buick tried to step up its game by creating a new four-door model that can easily be on par with any other sedan on the market. And by the looks of it, they've succeeded.
Progressive Beauty
One might say that Buick stayed true to its unique way of designing cars with the 2015 Avenir Concept.
Although the body of the new model looks amazing, stunning, and brand-new, there are still many recognizable lines we've witnessed on the older models.
Nonetheless, the Avenir gives off an exquisite glow with its long hood, perfect curves, and truncated back. On the inside, however, there's a whole different thing happening.
Equipped with a Buick IntelliLink infotainment system, a 12-inch touchscreen, and a whole lot of style, the Avenir's interior will make you feel like you're driving a space shuttle.
Keeping It Real
Unlike most luxury cars out there, Buick wanted to stay realistic with the 2015 Avenir. This fine car will come with a V6 engine and GM's Active Fuel Management cylinder deactivation system.
Since this is still a concept, we don't know exactly how strong Avenir's drivetrain will be, but you can expect it to have somewhere around 400 horsepower. With a nine-speed auto transmission, the 2015 Buick will be able to glide on the road with its all-wheel-drive.
Since GM went bankrupt, many expected Buick to follow suit. But as you can see, their newest concept shows that not only are they not planning on quitting, but it seems like they're coming back better than ever.
With a $60,000 car like Avenir, you can be sure that this is just the first step Buick is taking towards a better future.