15 Worst Places For A Date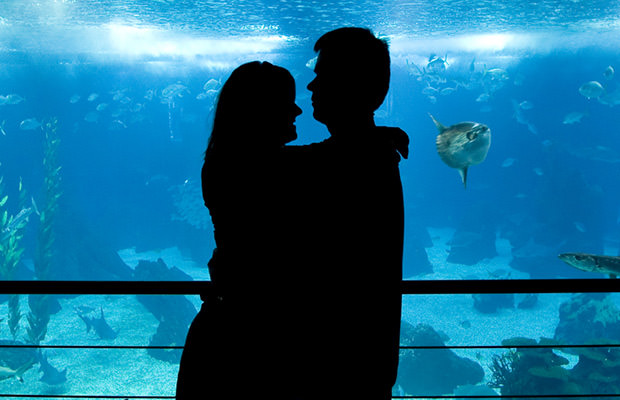 Ah, the joy and excitement of dating. That wonderful experience of spending time with someone you are interested in and getting to know them is one of those things that make life what it is.
But what happens when you take your date to a place that is not so date-appropriate?
Sure, once you've established a relationship you can do and go where you please, but in those first encounters when you are trying to figure out one another it is essential to actually get the chance to talk to someone.
Some places, unfortunately, do not provide such ambiance values. To make sure you don't miss on some great person because you weren't thinking it through, here are the 15 worst places for a date. You were warned.
Oh and talk to each other, if you remember how to communicate, and at least try to get a glimpse of an idea what things does your date like so you can make the next one fun for you both. Dates exist so you could form a bond, which is usually kind of hard if you don't talk.
1. The Aquarium
Can you spell "yawn?" Once again, what is calming to some may be a nervous wreck trigger to others. Sure, the aquarium is a great place to take your grandma but your date just might get incredibly furious. Maybe it's the water… Or maybe it's you. Yeah you, the person that takes their date out to an aquarium to look at fish.
Who cares about fish? Unless your date is a marine biologist, this is not a good idea. And even if they are, imagine someone taking you out to a place related to your work and making you feel stupid every step of the way, because you wanted to impress them. That's not the point of a date now, is it?