Top 3 Video Games To Play With Your Friends When You're All Drunk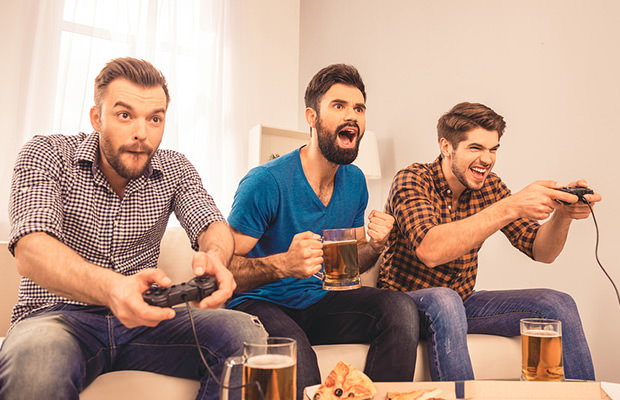 I suggest we drink before we go out drinking!
This is a scenario we've all experienced at least once.
You assembled your crew at your place to warm up for a crazy night out at your favorite club, but you all got so wasted that you'd rather stay in and have a drunken video game night.
If this is the case, you've clicked on the right link.
The following video games are perfect for a drunken game night session as they are:
easy enough to play with altered motor skills
quick
extremely fun to play when there's more of you
Ready?
(ALSO CHECK OUT: 5 Crazy Fun Drinking Games You Probably Never Heard Of)
3. Angry Birds
Angry Birds is so fun that even when you fail a certain level, you get to launch hilarious-looking birds into useless constructions guarded by funny looking pigs.
It's all about taking turns and finding the right angle to launch the benevolent birds with the right amount of energy. Extremely addictive!
Get Angry Birds HERE!
2. Worms
Bright and humorous cartoon-style animation, varied arsenal of bizarre projectile weapons, ridiculous voices and witty dialogs, deformable landscape, vicious battles, physics, tactics, amazing competition…
What more can you ask from a classic video game for your drunken game night?
Get Worms HERE!
1. Mario Kart
Mario Kart's bright colors, chunky cartoon graphics, and extremely intuitive gameplay are even more fun when you're tipsy.
Ruin your friend's efforts with a Blue Shell or a well-placed banana and watch him get angry while you win the race. It's a perfect four-player game for your squad, but if there's more of you, you can always turn it into a badass tournament.
Get Mario Kart 8 HERE!
(RELATED: All Classic SEGA Games Are Coming To iOS And Android For Free)