Watch Out For iWatch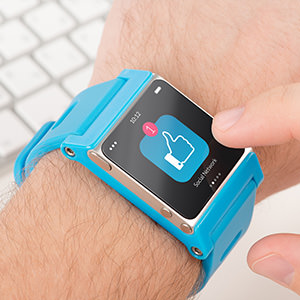 Apple's "iWatch" speculation is heating up as Fall 2014 approaches, and there are many guesses and rumors as to what the new smartwatch would be like.
The iWatch is rumored to have up to 10 sensors that will take the users health measurements and other data. The Wall Street Journal reported last week that Apple is also planning multiple screen sizes for the new smartwatch.
There is already a lot of competition in the smartwatch category with Samsung, Sony, Qualcomm and others already having released smartwatches to the public.
These devices however have primarily functioned as companions to smartphones, being able to offer email notifications, clock functions and other basic roles.
Samsung upped their Gear 2 line with its release this year, adding fitness-related apps and has a heart rate sensor.
Apple announced that the upcoming version of its mobile operating system, iOS 8, will include tools for managing health data. The software will come with the new iPhones, but there is also speculation that it could be for the iWatch as well.
The iWatch is said to have sensors for heart rate and burned calories. It can count steps and help check sleeping patterns. No official price point has been set yet for the iWatch.
Analyst Ming-Chi Kuo reported the Apple iWatch may come in two sizes – 1.3 and 1.5 inch displays, while others have reported three sizes – 1.3, 1.4 and 1.5 inches.
The display is likely to be a sapphire-covered AMOLED, making it a good fit to the wrist.
The iWatch battery is estimated to be between 200 to 250mAh cell and might also support wireless charging. Apple has filed for a weightlifting sensor patent and has posted job openings looking for specialists for energy expenditure and cardiovascular fitness.
Rumors say the Apple iWatch release date is due in 2014's third quarter and Apple is reported to be hiring about 100 people, including designers, engineers, and health and fashion experts, to work on the iWatch.
Apple CEO Tim Cook did say the company will enter into new categories this year, which many think means the release of a new smartwatch, the iWatch.